Recaro Young Sport HERO - 2017 Collection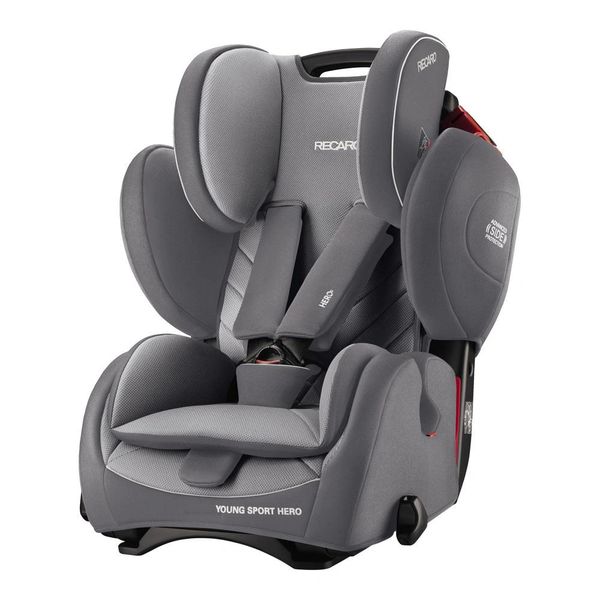 Recaro Young Sport HERO - 2017 Collection

---
Recaro Young Sport HERO
---
The Recaro Young sport hero offers your child the HERO of new, innovative safety system, which for the age group I (approx. 9 months to 4 years) for "growing" safety provides. As soon as your child is bigger (age group II / III to 12 years), just take out the 5-point belt system and you will be secured for the further period of use with the vehicle's own 3-point belt.
The sparse ALLROUNDER is very popular especially due to its long service life and ease of use. Security system and the improved ASP make more secure the spacious and very comfortable seat the new hero.
GGroup/weight class
Group 1/2/3
For children weighing from 9 to 36 kg
From approximately 9 months to 12 years old
Complies with the
The newly developed, innovative HERO form shoulder pads, shoulder straps and headrest a unit security system. Twisting or shifting of the seat belts is excluded and the fasten easily and quickly. Especially padded shoulder straps of the Recaro young sport HERO prevent the risk of injury in the event of a frontal impact.
Product details:
Height-adjustable headrest
Very long service life (approx. 9 months to 12 years)
5 point safety harness with HERO technology (Gr. I): shoulder pads, shoulder straps and headrest, form a unit - specially padded shoulder straps prevent no twisting or slipping the straps for simple buckles to – risk of injury in the event of a front impact
Advanced side Protection (ASP): lateral energy absorber reduce forces of a side impact - protective foam in the hip, shoulder and head areas
Installation with the vehicle's safety belt (Gr. II-III)
Ergonomic seat thanks to moulded foam from the automotive industry
Innovative belt clamp facilitates fastening of the seat in the car
Booster cushion offers optimal support for the smallest
Breathable fabrics ensure best air circulation
Easy setting of the resting position on the wheel