Peg-Perego Booklet Lite Classico - 2016 Collection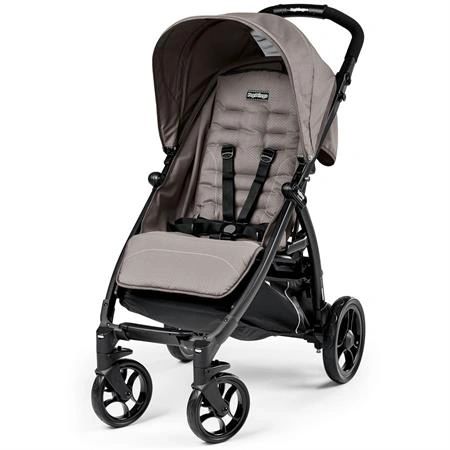 Peg-Perego Booklet Lite Classico - 2016 Collection
Peg- Perego Booklet Classico
---
The peg-Pérego stroller booklet is quickly becoming a faithful companion in everyday life with a toddler. Convince not only the stylish design right off the bat – the buggy combines maximum comfort for you and your honey and folds thanks to the innovative folding technique fast and small. The lightweight aluminum frame is very sturdy and has a weight of only 8.7 kg. The swiveling front wheels easily maneuver the stroller and make every tight bend a breeze. Depending on the needs or roadway surface to determine the front wheels. Thanks to the large rear wheels with telescopic suspension is provided for a smooth running and nothing in the way is a walk on uneven terrain.
A padded 5 point harness protects your favorite before falling out and getting up. The big top is equipped with UV protection 50 + and your Angel protect from direct sunlight and draughts. The integrated visor offers more protection from dangerous solar radiation. The backrest is infinitely adjustable up to in a reclining position - so nothing more in the way is a NAP in between. The dual adjustable footrest ensures even greater comfort.
The Peg-Perego booklet is equipped with an extra high slider and enables such a comfortable slide. A shopping basket provides ample storage space for the shopping or the main utensils.
Product details:
Aluminium frame
Rear wheels with telescopic suspension
Large and wide ball bearing wheels
Front wheels either tilt or fixable
Very sturdy and comfortable, yet light weight (8.7 kg)
Extra high and adjustable slider
Both sides acting parking brake on the rear wheels
Frame can be folded together - and again with a handle like a book
Central ironing to folding, can be folded like a trolly
The cart folds up so that the cover inside and is protected from dirt as well
Free standing when folded together
Hood with mesh at the back for the good ventilation of the car interior on hot days
Transparent inspection window on the top, which can either be covered with fabric
5 point safety harness with shoulder and step pad
Up in the lying position adjustable backrest
Tilt the foot rest in 2 positions adjustable
Very large and stable net basket with Bela de help
Cover removable, washable at maximum 30 ° C by hand
Weight: 8.7 kg