Maxi-Cosi Pearl - 2017 Collection (excl. base)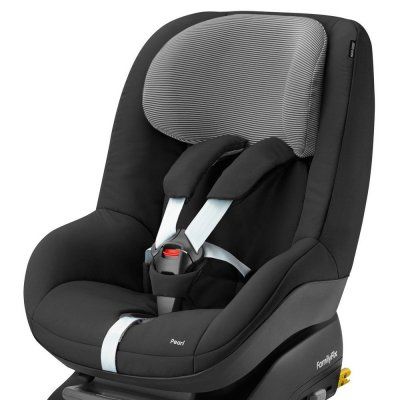 Maxi-Cosi Pearl - 2017 Collection (excl. base)

Maxi-Cosi Pearl
---
---
Maxi Cosi Pearl
Group 1 // From 9 month to approx. 3,5 years // 9-18 kg
The Maxi-Cosi Pearl is a forward facing toddler car seat with a five recline options and a compact design to fit into most cars. Easy to secure with IsoFix installation via the FamilyFix Base, it has light and sound confirmation of correct installation. Approved to the latest European safety standard ECE R44/04, the Maxi-Cosi Pearl has an innovative stay open harness system making securing your child fast and easy. Featuring an adjustable harness and headrest, the Pearl will grow with your child. Easy to adjust at the front from a sitting to sleeping position, the Maxi-Cosi Pearl provides a safe and practical way of transporting your child, allowing you to relax and enjoy your trip.
Complete Travel Systems With The Maxi Cosi Pearl
The top rated Maxi-Cosi Pearl child seat is used with the Maxi-Cosi FamilyFix Isofix Base, as part of the Maxi-Cosi FamilyFix Collection.
Please note: Maxi-Cosi Pearl can only be used in combination with Maxi-Cosi FamilyFix Base. The Base does not belong to this offer. You can find the Maxi Cosi FamilyFix Base in our car base listing. Please consider our package deals (Pearl + FamilyFix).
Features / Details:
Easy IsoFix installation with FamilyFix
Long lasting value and convenience: only one base needed for two consecutive age car seats: Maxi-Cosi Pebble/CabrioFix (infant) and Pearl (toddler)
Light and sound confirmation of correct installation on Maxi-Cosi FamilyFix Base
Fasten your child into the seat in no time with the innovative harness system; the harness belts and belt buckle no longer get in the way
Easy to adjust at the front from sitting to sleeping position
Five comfortable positions, from sitting to sleeping
The height of the headrest and harness belts can be adjusted at the same time, so that the Maxi-Cosi Pearl grows with your child
Side Protection System offers optimal protection against side impact
One-click attachment onto the Maxi-Cosi FamilyFix base
Compact design fits easy in the car