Maxi Cosi Mura Plus 4 - 2016 collection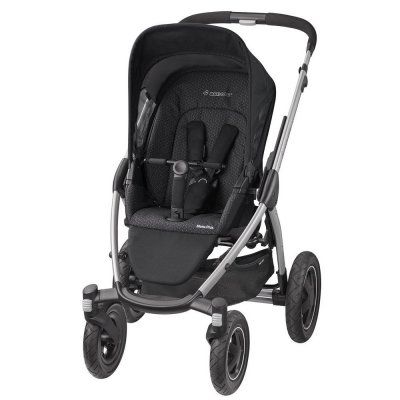 Maxi Cosi Mura Plus 4 - 2016 collection

Maxi Cosi Mura Plus 4
---
Maxi Cosi Mura Plus 4 product page
---
From birth up to 3,5 years // 0-15 kg
All-round, all-weather protection, thats what its all about with the Maxi-Cosi Mura Plus stroller.
In any of the 3 reclining seat positions, the large Mura Plus sun canopy and rain cover offer all-over protection from sun, wind, rain or cold for your little one.
Switching the seat to face either you or straight-on takes just seconds. Folding into a compact size also takes just seconds.
Whats more, you will never have a flat tyre thanks to the comfortable foam-injected tyres.
Features / Details:
Protection in all weather conditions thanks to the protective sun canopy and seat
Never a flat tyre thanks to the comfortable foam injected wheels
Flexible travel system with Maxi-Cosi infant carseats and carrycot
Comfortable pushchair suitable from birth to pre-school age
Sturdy frame, available as a 3- or 4-wheeler
Complete: including a large sun canopy, raincover, shopping basket, parasolclip and adapters for Maxi-Cosi baby car seat - Simple to (un)fold for easy storage at home or in car boot
Easy and light to steer
Forward and rearward-facing seat unit, switches within seconds
Reclines to 3 forward-facing and 3 rearward-facing positions, including a lie-flat recline to use from birth
Comfortably soft and spacious seat unit
Front swivel wheels can be locked
Height adjustable pushbar
SafeT-bar folds down for easy access child
Compatible with all Maxi-Cosi baby car seats, Maxi-Cosi Foldable Carrycot and spacious Maxi-Cosi carrycot to make a flexible travel system.
A range of matching accessories available: parasol, footmuff, Travel Buddies, FlexiBag and babycocoon
FREE DELIVERY