Maxi Cosi 2-Way Pearl - 2017 Collection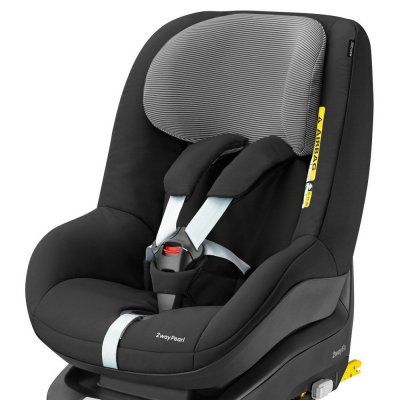 Maxi Cosi 2-Way Pearl - 2017 Collection

Maxi Cosi 2-Way Pearl
---
Maxi Cosi 2-Way Pearl product page
---
From 67 to 105 cm (approx. 6 months up to 4 years)
Meet the safest toddler car seat in the Maxi-Cosi portfolio, the 2wayPearl. Offering extended rearward facing travel for children up to 105cm or approximately 4 years of age, the 2wayPearl is our first i-Size compliant car seat.
If you are a looking for a rear facing toddler car seat, the 2wayPearl is the solution for you. The Maxi-Cosi 2wayPearl i-Size car seat allows children to travel in the recommended rearward facing position for longer (to 105cm / approx 4 years old) to offer improved head and neck protection when travelling.
The 2WayPearl can also be used for forward facing travel from 15 months. Offering full recline options in both positions, this is one of our most flexible Maxi-Cosi car seats. Compact, safe and stylish, the 2wayPearl toddler seat will fit in almost every car with ease. Installed in the car with the 2wayFix Base using the IsoFix fitting points in your car, the 2wayPearl toddler car seat is compatible most cars with IsoFix and all i-Size cars.
Note: The 2Way Pearl can only be used in connection with 2Way Fix Base (Sold separately - refer to Car base list).
Features / Details:
Approved according to the latest European safety standard i-Size
Side Protection System for best protection in side impacts
Installation feedback on switching off frontal passenger airbag travelling rearward facing, and not to place baby forward facing before turning 15 months
Easy to switch between forward and rearward facing positions
One-pull easy to operate harness adjustment
Easy-in harness
Simultaneous headrest and harness adjustment
Compact and modern design fits most cars