Concord Transformer XT - 2015 collection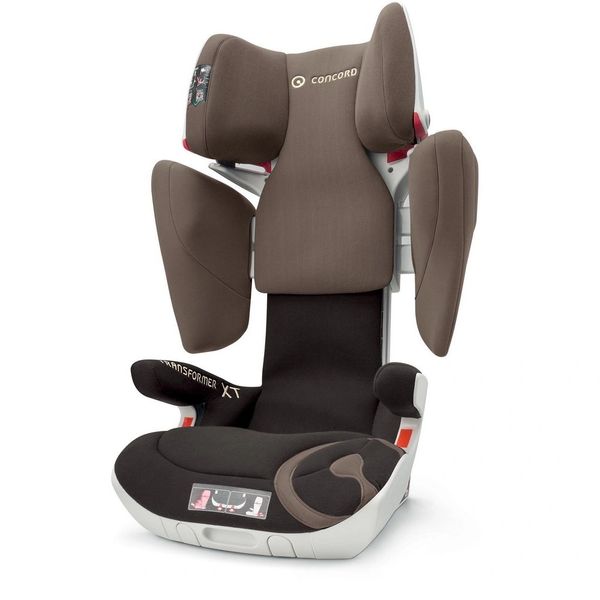 Concord Transformer XT - 2015 collection

Concord Transformer XT
---
Concord Transformer XT product page
---
The child car seat Concord Transformer XT marks through its unique design and ensures a never known ease of use plus a maximum of security in each age group.

The car seat group II/III grows continuously with your little sweetheart and a perfect sitting comfort from the third up the twelfth year is assured. By push of a button the Concord Transformer XT optimum adapts to the size of the little passenger. The body weight permission is from 15 until 36 kg.

The fully closed double-layer seat shell shape provides optimum whole-body protection in case of a side impact. The strong safety shell of the Concord Transformer XT particular protects the tender head and shoulder section. Quite unique! All important functions of the car seat will support through a lockable pneumatic spring and use by push of a button. Besides belong: the height-adjustment of the headrest, height and width adjustment of the shoulder protectors, the pull out of the Twinfix-connectors for the Isofix-attachment and the continuously adjustment of the sitting and reclining angle.

The quick and effortless installation happens by the Twinfix-system. The strong Isofix-connection ensures a fix connection between the child car seat and vehicle. Your child will strap in the Concord Transformer XT through the vehicle´s own three-point-safety-belt. The belt guide is easy opening by push of a button and the locking works automatic.

The seat shell is ergonomically shaped and through its comfort foam cushion with the soft padded armrests your little sunshine sits always comfortable during each car ride. The detachable and washable seat cover of the Concord Transformer XT with TRIZONE-equipment fulfils highest quality-requirements. Depending on the handling the used fabrics are comfortable, breathable and durable.

Result: Maximum security with highest sitting comfort and ease of uses!

Product details:

Group/ Weight class:

Group 2/3
for children from 15-36 kg (3,5-12 years)
Headrest height and height and width of shoulder protectors are simultaneously and continuously adjustable at the touch of a button
Sit/recline inclination continuously adjustable at the touch of a button
Twinfix System: with Isofix attachments for safe anchoring in the vehicle
Twinfix connectors extend at the touch of a button
Belt guide opens and closes at the touch of a button
Robust, double-walled safety shells in head and shoulder area
Closed shell shape provides optimum whole-body protection in the event of a side impact
Unique design with clear lines to suit all vehicle interiors
Covers featuring the TRIZONE concept: depending on the requirements either comfortable, breathable or hard-wearing