Concord Transformer T - 2015 collection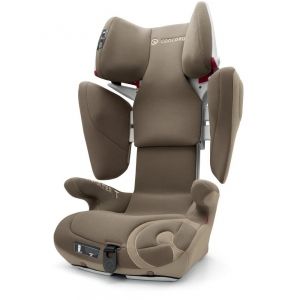 Concord Transformer T - 2015 collection

Concord Transformer T
---
Concord Transformer X-Bag product page
---
The child car seat Concord Transformer T provides its little passenger a high degree of driving security at any time, optimum ease of use and comfortable sitting during car rides.
Your little sweetheart can drive secure in the car from a weight of 15 up approx. 36 kg in this car seat group II/III. The backrest of the Concord Transformer T grows along through a touch of a button. So your little honey gets the best possible side protection anytime in each growth phase from the third up to the twelfth year.
Its special design is super-chic not only but provides highest degree of security mainly. The completely closed double-walled protection shell ensures complete side protection in case of a side impact. An optimum protection for your little darling is assured. Height of the headrest as well as height and width of the shoulder protectors are ideally continuously adjustable by touch of a button. The Concord Transformer T is easy to use. Equipped with an Isofix-anchoring the car seat is simple, fast and secure installed at the Isofix-mounting points of the vehicle through a Isofix strap system. Your little sunshine will strap in the Concord Transformer T through the vehicle´s own three-point-safety-belt. The belt guide is opening by touch of a button too. It will close automatic.
Soft padded is the comfortable and ergonomically shaped seat shell and the arm rests are attached in a pleasant comfortable height. A comfort foam-seat cover gives a comfort feeling. All covers are detachable, washable and utterly easy-care. Cover fabrics with savvy – the TRIZONE-equipment works with different materials inside the seat cover. Depending on its use or location the fabric arias are comfortable, breathable or durable.
Result: perfect security for a convincing price!
Product details:
Group/ Weight class:
Group 2/3
for children from 15-36 kg (3,5-12 years)
Innovative Transformer technology
Convenient size adjustment: headrest height plus height and width of shoulder protectors continously adjustable at the touch of a button
Unusual design, compact shell shape; completely enclosed shell for exceptional safety and protection in the event of a side impact
Variosize System: headrest height plus height and width of shoulder protectors continuously adjustable at the touch of a button
Twinfix System: belt system with Isofix attachments for safe anchoring in the vehicle
Double Layer Impact Protection: double-walled safety shells for optimum side impact protection
Belt guide opens at the touch of a button
Covers feature the Trizone concept: comfortable, breathable or hard-wearing according to requirement