Britax Römer King II- 2019 Collection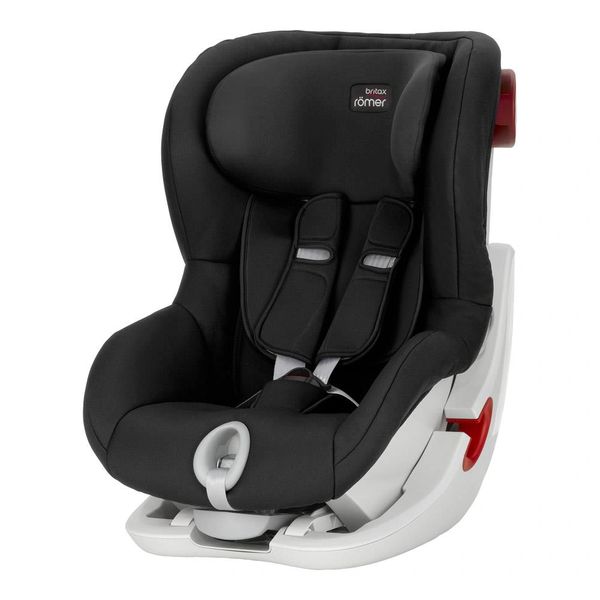 Britax Römer King II- 2019 Collection

Römer  King II 
---
---
Group 1  // from 9 - 18 kg // from 9 month up to 4 years
Quickly and easily you can fasten the King II ATS with the vehicle´s own three-point-safety belt. A special active-tensioning system retracts the belt of your vehicle so that the belt has always the correct tensioning. The vehicle´s belt-tensioning-system ensures a safe and firm installation of the child car seat.
GROUP 1 (9 months - 4 years / 9 kg - 18 kg)

The KING II combines safety with convenience. Integrated side and frontal protection deliver a safe ride. Multiple recline positions give a comfortable journey for little sleepers as well as little wrigglers. While its patented seat belt tensioning system and tilting seat area enable simple and secure installation every time.
Features / Details:
Easy installation - with tilting seat and patented seat belt tensioning system 
Optimum protection - performance chest pads, deep, padded side wings 
Simple adjustment - height-adjustable headrest and harness with easy single-handed adjustment 
Comfort in any position - multi-position recline 
Practicality in mind - quick-remove cover, no need to remove harness 
Easy access - harness retainers and buckle remaining in forward position 
Easy installation with patented seat belt tensioning system for 3-point seat belt of the car 
Deep softly padded side wings 
Performance chest pads to reduce forward movement 
5-point harness   
Multi-position recline 
Forward facing
FREE DELIVERY