Britax Römer King II ATS - 2017 Collection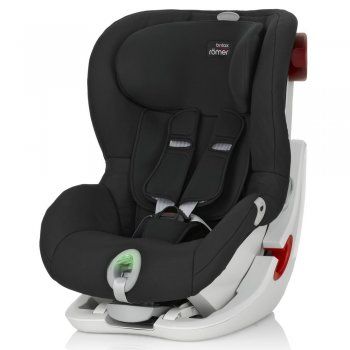 Britax Römer King II ATS - 2017 Collection

Römer King II ATS
---
Römer King II ATS product page
---
Group 1 // from 9 - 18 kg // from 9 month up to 4 years
Quickly and easily you can fasten the King II ATS with the vehicle´s own three-point-safety belt. A special active-tensioning system retracts the belt of your vehicle so that the belt has always the correct tensioning. The vehicle´s belt-tensioning-system ensures a safe and firm installation of the child car seat.
Your little passenger will be fastened with the five-point-safety belt in the child car seat. The centrical belt-length-alignment assures the perfect adaption of the belt system to the body size of your treasure. It also gives a safe support in the seat and the arising energy in case of a side impact will be led into the seat. A light-indicator shows you if you tensioned the belt of your cutie correct. If the belt should be tensioned incorrect you will get an alert by light or sound. This assures additional safety.
Special shoulder pads will reduce the forward-displacement of your honey and the load values in case of a side impact.
The Römer King II ATS is equipped with a four-fold adjustable seat position. This offers your little mouse an optimum sitting and reclining comfort and nothing can stand in the way for a little nap in between. The soft padded seat cover and the belt-padding give even more comfort. An intelligent belt-lock as well as the shoulder belt-retainers will make it easier to lift your sweetheart into the seat.
The height-adjustable headrest and shoulder belts can be operated by only one hand and are ideal adaptable to the current body size of your darling.
Product details:

group 1
suitable from approx. 9 months up to 4 years
from 9 up to 18 kg
active-tensioning-system: the three-point-safety belt of the vehicle will be retracted – in this way the belt will always have the correct tensioning
light-/ sound indicator: shows you if you have fastened your baby in correct tensioning
five-point-safety-belt system with centrically belt-length alignment
vehicle belt tensioning system – assures an easy, safe and firm installation of the child car seat in the vehicle
foldable seat shell – allows a better access and an optimum view for an easy fastening
deep, high, soft padded side bolsters – provide optimum side impact protection
special shoulder-pads reduce the forward-displacement of the child and the load values in case of a side impact
height-adjustable headrest and shoulder belts – can be operated by only one hand
four-fold adjustable sitting position
shoulder belt retainers
intelligent belt-lock – flaps automatic forward
belt-padding
soft padded seat cover
net weight: 10,3 kg
Made in Germany
FREE DELIVERY