Britax KIDFIX XP SICT Black series - 2018 Collection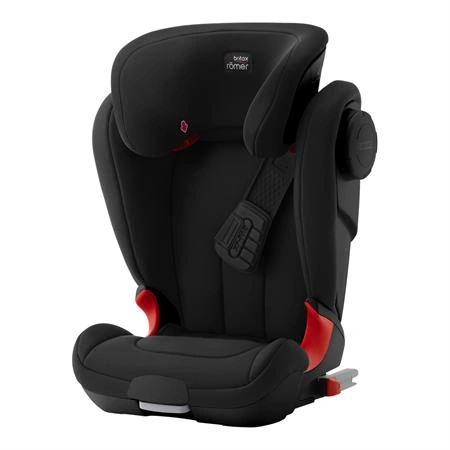 Britax KIDFIX XP SICT Black series - 2018 Collection

Britax KIDFIX XP SICT

---
Britax KIDFIX XP SICT Black Series product page

---
The neck of your child is daily exposed to many forces. To relieve him, and yet to offer better protection, Römer inserts instead of only the 3-point-belt additional the XP-PAD, which absorbs 30% of the forces. In the event of a frontal impact crash forces on the chest and the stresses in the neck area can be reduced since the chin moves toward the chest.

The so-called XP-PAD technology keeps your treasure safely back in the seat.

Also in a side impact, considerable injuries can be contracted. The Side Impact Cushion Technology (SICT) absorb the impact forces before they affect your child. Injuries in the throat, neck, and trunk area are thereby reduced.

The Römer child car seat Kidfix XP SICT is equipped with an adjustable Side Impact Cushion Technology. This SICT Technology is only used on the door facing side, to make room for more passengers. The large, soft and padded side wings also serve as a protection to avoid injuries.

The ISOFIT system ensures easy installation and connection to the ISOFIX anchorage points and a secure installation of the seat in your car. Built-in indicators show the proper installation of the child car seat. Your favorite is protected from falling by the attachment of the 3-point belt. The intuitive belt guides is used to achieve the correct positioning of the seat. If you move the seat without a child, he is connected to the ISOFIT system and must not be additionally secured with the 3-point belt.

The ISOFIX arms grid can be stored easily when the seat is to be used only with the 3- point belt.

But not only these three important points make this seat to what he is, but also the other integrated in the seat safety precautions. The KIDFIX XP SICT adapts to the growth of your favorite and grows with him. To take up a corresponding one of the developing posture, the backrest is designed V-shaped. It adapts to the shape of your favorite always optimal. The head restraint and the seat belt can vary in height as they grow with your offspring depending on the size of the child. The diagonal belt is thus performed perfectly over the shoulders.

To give your sweetheart with fatigue also a suitable sleeping position, you can adjust the seat position several times. The soft padded seat makes the snooze more enjoyable and comfortable. The cover can be removed and cleaned.

The KIDFIX XP SICT not only has the important safety measures. it also offers many great and innovative designs for every taste. Convincingly it is also because of its long useful life from age of 4 years up to 12 years.


Product details:
For groups 2/3 / 15-36 kg (= 4-12 years)
With ISOFIX and 3-point safety harness
Can also be use without ISOFIX, ISOFIX grid arms stow able
Easy and safe installation due to the ISOFIT system
XP-PAD absorbs forces and protecting the neck
Optimum side impact protection due to the SICT-Technology
Softly padded side wings
Multi-adjustable seat position
V-shaped back for perfect fit
Height adjustable headrest and seat belt
Adapts to the development of the child to grow with
Intuitive belt guides for correct positioning of the 3-point belt
Built-in indicators
Softly padded, removable and washable cover
Comfortable sitting
Seat is mounted with ISOFIT system even if it is not used
FREE DELIVERY