Britax KIDFIX SL - 2018 Collection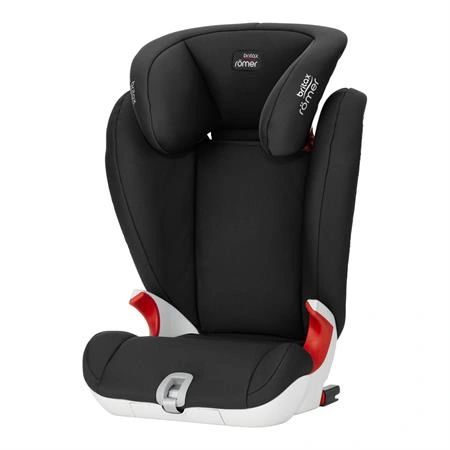 Britax KIDFIX SL - 2018 Collection

Britax KIDFIX SL

---
---
The Römer child car seat KIDFIX SL provides your little passenger a maximum of safety and comfort. Equipped with the ISOFIT-system it allows an especially easily attachment. The flexible belt-straps will be connected directly with the Isofix-anchoring points of the car chassis.
Group / weight class:

group 2/3
for children with a body weight of 15 up to 36 kg
from an age of approx. 4 up to 12 years
Your darling will be protected from falling out through the three-point-safety belt. The intuitive belt-guide provides the correct positioning of the child car seat. If you should drive without your babe the seat will be connected with the ISOFIT-system anyway and do not have to be attached additional with the vehicle´s own three-point-safety belt.

The KIDFIX SL can ideal be adapted on each growth-phase of your sunshine and grows with it. The backrest has been manufactured in V-shape so that it provides an optimal body posture of your angel adapted on its current development. Therewith it will always perfectly fit to the body shape of your honey. The headrest as well as the belt guide are variable height-adjustable on the body size of your cutie so that it also can grow with it. The vehicle´s own three-point-safety belt therewith can perfectly be guided over your treasure´s shoulders.

The deep, high and well padded side bolsters assure your darling optimum side impact protection. Due to the soft padded seat-cover your little passenger will sit comfortable in its car seat. Depending on your desire the seat-cover can be detached and washed.
The KIDFIX SL complies not only with the most essential safety-characteristics but also marked through its modern and innovative design – just the right one for every taste. Also convincing is its long useful life from 4 up to 12 years.
for groups 2/3, 15-36 kg (= 4 until 12 years)
attachment with ISOFIX-connectors, Soft-Latch ISOFIT system and three-point-safety belt
can even be used without ISOFIX
easy and safe attachment due to the ISOFIT system
padded side bolsters
multiple-adjustable seat position
V-shaped backrest ensures a perfect fit
height-adjustable headrest and belt guide
optimal adaption to the development of the child, grows with it
intuitive belt guide for a correct positioning of the three-point-safety belt
soft padded detachable and washable seat-cover
comfortable sitting
always be connected with the ISOFIT-system even if the car seat transports no passenger
net weight: 6,42 kg
size (H x W x D) 66-85 x 49 x 45 cm
Made in Germany
FREE DELIVERY